9300 Capitol Drive
Wheeling, IL 60090
Company Established In
1986
HOURS OF OPERATION
7:30 AM - 6:00 PM, M-F
CERTIFICATIONS
CATEGORIES & HEADINGSdetails >>
Cue College provides online courses for learning Cued Speech quickly, affordably, and with a customized level of support! Find extensive information and resources in the Cued Speech field in our Cue Store and Cue Library -- for you, your clients and their families. Learn Cued Speech -- and learn best practices for its use in therapy, school, in the community, and at home.

Cued Speech is a mode of communication that combines handshapes and placements with the natural mouth movements of speech to clearly convey all of the phonemes of a spoken language. The entire system can be learned in just a few days, with fluency developing over a few weeks to a few months. It has been adapted to over 65 languages.

Cued Speech benefits children with any degree of hearing loss or other special needs that impact language acquisition and/or development of speech and listening skills. Cueing a spoken language creates a phonological language base in the mind of a child that primes him/her for development of age-appropriate language and literacy skills. This also provides a foundation for development of speaking and listening skills -- and effective use of the latest technology, including cochlear implants. Cued Speech can be used as part of a comprehensive approach that includes the entire spectrum of communication and education modalities and approaches -- from ASL to LSL.


Product Showcase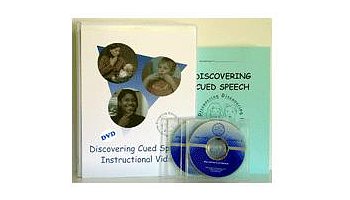 This teachers manual matches and expands on the Discovering Cued Speech Instructional Video / Workbook. Teaches by asking Which sounds/ phonemes look alike on the lips? What are the cues that distinguish them? Builds sound-discrimination. cue-reading. and clear visible articulation skills. Each person uses their personal vocabulary. read more